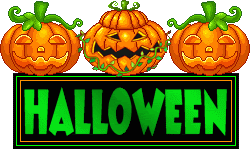 As children, we're told not to take candy from strangers, yet there is one day every year when that rule does not apply—and that day is HALLOWEEN.
The thrill is overwhelming...running from house to house in disguise; seeking a sort of treasure that can only be appreciated by a child.
After the thrill of the hunt is over, enjoying the spoils is a reward like no other.
With all fun aside, there are a few rules that should always be followed to insure the safety and fun for all who participate in the candy brigade.
Tips for trick-or-treaters
Walk—don't run, and no pushing to help avoid falls
Keep shoelaces tied to avoid tripping.

Do not wear sandals or high-heeled shoes that could easily slip off the feet or cause pain when walking long distances
Always cross streets at the traffic light when the signal prompts
Walk against traffic so that oncoming cars can easily be seen
Know the area where you will be trick-or-treating.

Never trick-or-treat in an area that appears abandoned or dimly lit
Keep off grass and landscaping—always use walkways
Always carry a flashlight with fresh batteries, and a watch that lights up to avoid missing curfew
Stay on main roads, and never cut through alleys or wooded areas
Obey all curfew laws in your area
Remember to be respectful of those who don't participate in trick-or-treating
Tips for parents
Make your children eat dinner before they leave the house, and include a sweet treat to help ward off any temptation to sample their candy before they get home
Make sure store-bought costumes are flame-retardant
Buy or make well-fitting costumes, using makeup instead of masks when possible
Have a dress rehearsal to check costumes for "wardrobe malfunctions"
Send older children out with a cell phone, make sure they know where you can be reached
Decide carefully the age that you allow your children to venture out on their own
Inspect all candy before your child eats it, discarding items that are broken, have loose wrapping or no wrapping, or any item that is unrecognizable
If your child is carrying a prop such as a sword, make sure there are no sharp edges and that they are flexible enough for possible rough play
Leave pets at home, as they may get excited and bark continuously, inadvertently bite someone or wander into oncoming traffic
Remember pumpkin carving safety.

Keep knives out of reach of small children.

Always use adult supervision when carving and lighting candles inside pumpkins
For free carving templates, go to www.thepumpkinfarm.com and click on "fun and games".

From there, click on "cool carving templates" and choose one.

Print it and tape it to a smooth pumpkin, tracing the pattern carefully with a pen, making certain to press hard enough to transfer the outline of the template onto the pumpkin.

Remove template to reveal lines for carving the perfect pumpkin
Instruct your children not to eat any candy while trick-or-treating, but to wait until all candy is inspected at home and all questionable candy is discarded
For smaller children, take them out one hour before dusk
For older children, set a designated time that they are expected to be home, and designate an area where they will trick-or-treat
Remind children not to enter a home of someone they don't know
Don't forget to tell children there is safety in numbers
Before going out, remind children of the difference between "tricks" and vandalism
Advise children that it is against the law to harm animals
Tips for homeowners
Clear yard and walkway of all debris at least one hour before trick-or-treaters arrive and remove any obstacles in the path of your front door
Prevent pets from coming in contact with trick-or-treaters by putting them in another room, and close the door if possible to prevent excessive barking from the noisy traffic of trick-or-treaters
Leave front porch light on to let trick-or-treaters know you are handing out treats.

If you don't plan on participating, leave outside lights off
Never place candle-lit pumpkins where they can be tripped over, or use candles larger than a tea light, as this may cause risk of fire
Keep cloth and paper decorations away from candle-lit pumpkins to prevent risk of fire
Whenever possible, use battery-powered lanterns in pumpkins.

www.Pumpkinlights.com offers a safe solution in the form of lights that flicker like real candles
Inspect candy before handing it out and discard any pieces with loose or missing wrappers.

Never hand out things that are unsafe or have small or broken pieces
Do not hand out unwrapped food of any kind as it will most likely be discarded by parents
Do not leave a container of candy on your porch unattended
Serve up healthy alternatives to candy such as individually wrapped packages of crackers filled with cheese or peanut butter, single-serve packages of peanuts or trail mix, fruit rolls and granola bars, mini boxes of raisins, pretzels, sugar-free gum, real-fruit juice boxes, or individually wrapped popcorn that kids can microwave later

Non-food alternatives that make great treats:

unsharpened pencils, plastic toys, stickers, gift certificates, temporary tattoos, coins, crayons, bubbles, un-inflated balloons in fall colors, etc.

Do not video tape or take pictures of trick-or-treaters unless you know them
Do not invite children into your home—even those you know
Candied apples and popcorn balls are a treat of the past and should be saved for parties where children are guaranteed to consume them
Tips for parties
Decorate your home according to your party theme (fall festival, monster bash, "who done it" mystery, etc.)
Move any breakables or heirlooms to another room where they will be "off limits" to guests
Throw a block party and have each neighbor bring food to share
Make most of the food the day or morning before the party so you don't feel rushed when the guests arrive
Turn ordinary games into Halloween games.

For example; tag can become "monster tag" (whoever is "it" has to wear the monster mask), or "pumpkin bowling"; using gourds and empty 2 liter soda bottles, or try "pin the stem on the pumpkin"
Make a pumpkin piñata and fill it with candy and toys
Play the "Chicken Dance" and "Hokie Pokie" songs for smaller children
Tell spooky stories with the lights dimmed and use props to pass around and use sound effects when appropriate so guests can become a part of the story
Bob for apples using a large laundry tub filled with water or hang a string across the room, tying apples from the stems and have guests try to grab them with their teeth (the trick is to push the apple with your mouth so that when it swings back toward your open mouth, it will catch in your teeth practically on its own)
Hold a pumpkin carving contest making certain to provide adult supervision at all times and to assist smaller children if necessary
For costume parties, hold a contest for "best costume", "funniest costume" or "most unique costume"
Ending the party with a scavenger hunt is a great way to wind down any party, but be sure to offer a prize for the winner.

Suggestions:

fast-food certificates, small toys, goodie bag filled with a bonus helping of candy, etc.
RECIPES
Chocolate chip muffins
2 cups all-purpose flour
1 cup granulated sugar
1 cup packed, light brown sugar
4 tsp. pumpkin pie spice
1tsp. baking powder
½ tsp. salt
1 ½ cups mini semi-sweet or milk chocolate chips
1 can pumpkin pie filling
2 eggs
1/3 cup light vegetable oil
Preheat oven to 375 degrees.

Spray a twelve-cup muffin pan with cooking spray or place cupcake wrappers in each holder.

Combine the first seven ingredients and mix well.

In a separate bowl, combine pumpkin pie filling, eggs and oil.

Fold and stir the flour mixture into the pumpkin mixture until blended.

Spoon mixture into muffin cups using small serving spoon.

Bake for 25-30 minutes, or until a toothpick inserted in the center of each cupcake comes out clean.

Cool on a metal baker's rack for 10 minutes or serve warm.

Yields 12 muffins.
Suggestion:

frost muffins with canned cream cheese frosting by placing six tablespoons into a microwave safe bowl and heat for 15-30 seconds or until melted.

Using a spoon, dribble frosting over the top of each muffin and let set for five minutes before serving.
Hot spiced cider
1 gallon apple cider
1 cup brown sugar
1 tsp. allspice
2 cinnamon sticks
1 tbsp. whole cloves
1 can whip cream
Ground nutmeg
Place ingredients in a heavy saucepan, preferably stainless steel with a reinforced bottom.

Bring ingredients to a slow, rolling boil on medium high heat.

Lower heat to medium and simmer for 10 minutes uncovered.

Strain spices from cider using a wire mesh strainer and serve in clear, glass mugs.

Top with a spray of whipped cream and sprinkle nutmeg on the top for a delicious drink to serve with the chocolate chip muffins.
This article previously published in FOCUS Magazine by: Samantha Jillian Bayarr
Copyright 2004 by Samantha Jillian Bayarr